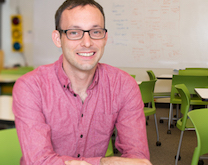 I am an Associate Professor at the University of Washington's Department of Human Centered Design & Engineering, a member of the DUB group, and part of the UW Alacrity Center. Working primarily on challenges of health, wellbeing, and exposure to diverse information, I design and evaluate techniques for helping people make sense of data about themselves and the world around them.
I completed a BS in Engineering at Olin College in 2006 and my PhD at the University of Michigan School of Information in 2012. Previously, I have been a political blogger and designed concepts for future passenger airplane interiors.
I have many great collaborators, including PhD students Elena Agapie, Lucas Colusso, Arpita Bhattacharya, Jessica Schroeder, Kai Lukoff, Sam Kolovson, Calvin Liang, and Susanne Kirchner Adelhardt.
Alumni include Christina Chung and Daniel Epstein.